Le Lay Language Consulting
South Kensington - London U.K.
Tél. : +44*(0)779 158 2849
+33 (0)6 82 90 99 23

General and Business English in London
Study in the British Museum area!
---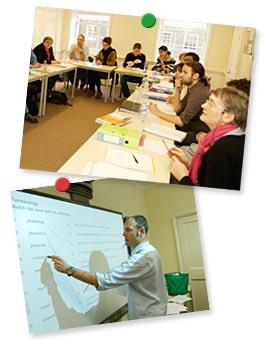 Through their experience at the Language School, we want the participants to develop their ability to express themselves successfully and confidently in English. We aim to provide learners with a practical and meaningful use of the English language with courses adapted to their needs.
We have a course-book based syllabus which draws on a variety of approaches which reflects the wide range of learning styles and learner objectives and needs.
Academic resources / Self study: There is a Library/Study Centre on the ground floor if you would like a quiet room in which to study. There are grammar, vocabulary and exam practise books available for students to use and borrow and a wide selection of books to read (readers). There are also DVDs to practise listening (see reception for details) or computer-based materials can provided in the computer lab.
English only: To assist your language development and to foster international relations, we speak English only in the school at all times. You will be reminded from time to time when you forget!
Internet Studio: This is open all day and has free internet access for students. The building also has Wi-Fi, so you can bring your laptop and access the internet.
Cafeteria: You can eat and relax in the cafeteria, where our catering professionals prepare fresh food for you everyday and are pleased to receive any special requests. The prices in the cafeteria are extremely reasonable. There is also a large flat-screen TV to watch.
---